Software Solution for Computer Lab Management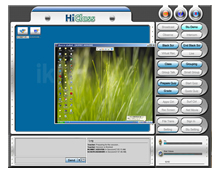 HiClass computer classroom management software helps teachers' teaching in a networked computer classroom. HiClass is very easy to use and offers a rich set of functions that enable teachers to broadcast, control, communicate, monitor or collaborate with students individually or as a group, so every student gets the most out of class time.
Promote learning efficiency by powerful broadcast


Teacher can broadcast what even on teacher screen and teacher's voice to
students' PCs with no delay.

Remove distractions by limiting Internet and application access


Simply add the web sites or application name that teacher do not want students to access to
the "Black List" provided by HiClass and student can not access them freely.

Small Group Teaching to add more energy and motivation to student learning


HiClass allow teacher to group students into small group and assign a leader for each group. Small group teaching is facilitating the participation of the group in an inquiry or problem-solving activity.

A pure software solution means cost saving


HiClass runs on popular LAN environment, no extra hardware is needed. So HiClass is not only a powerful solution, it save the cost as well!

Support multiple languages


HiClass now supports English, Traditional Chinese, Simplify Chinese, French, Korean and Arabic.