Distribute and Display up to 3 Signals at the Same Time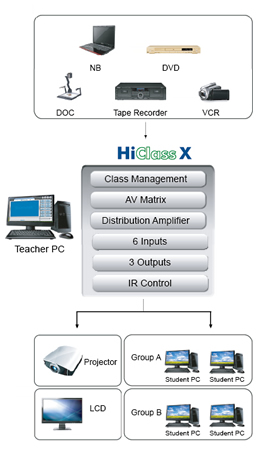 Teacher can select 3 out of 6 inputs sources and display on 3different outputs simultaneously.HiClass X can also distribute the VGA signal to an output up to 300 meters
away, so it is easy to connect the system with classroom projector which is away from the teacher desk.
Easy to implement and operate - by using STP cable to connect the system's components, it makes the implement very easy and cost saving.


Support high resolution screen and projector - HiClass X supports a high resolution TFT-LCD monitor up to 1,600 * 1,200.


IR Controller learning – IR learning function makes it possible to control all devices which connected to the HiClass X system after IR learning.
Programmable Smart Function Sub Console
In order to help teacher operating the AV system in the lab easily, HiClass X provides the programmable Smart Function console that teacher can use the
GUI ( graphical user interface) tool to create
and program by touch operation.


Instead of pushing many buttons to select the signal from the DVD payer, broadcasting it to student screens and broadcasting it to classroom projector. Teacher can create one button in smart Function console and just press one button to perform operating that need to be done by pressing several buttons.